Ranging from elegant to unusual, silver flatware makes dining a memorable experience---especially those different place pieces that provoke comment at the dinner table.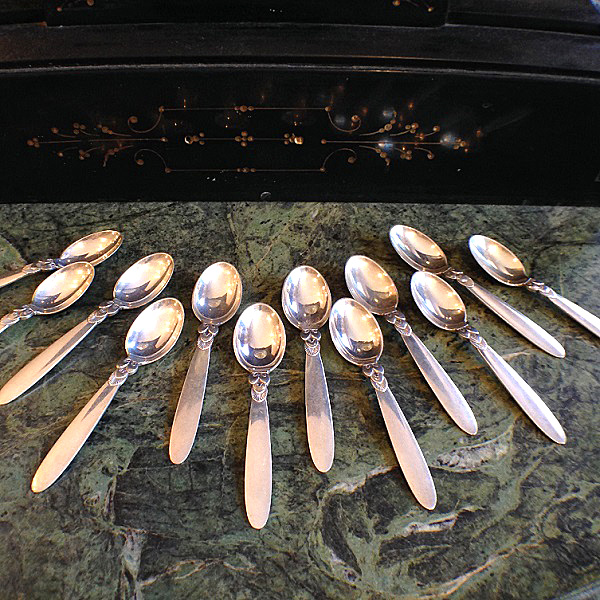 Georg Jensen of Denmark sterling set of 12 demitasse spoons in the Art Deco pattern "Catus" introduced in 1930, each spoon measures 4-1/4" long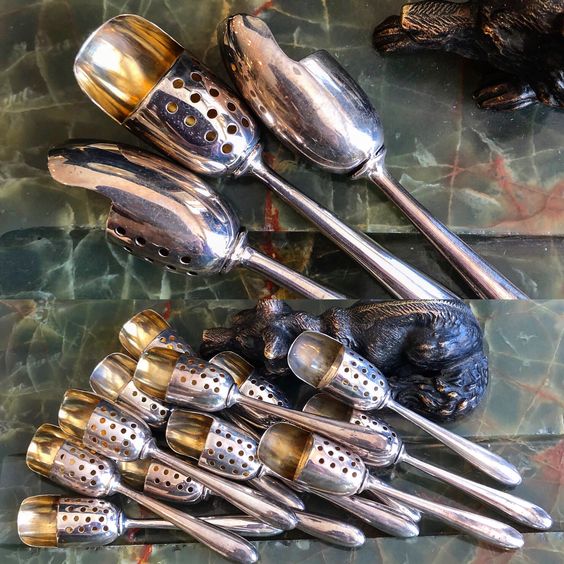 Set of 12 sterling silver hooded salt scoops with shakers by Webster measuring 3-1/2" long with a gold wash interior, circa 1930s—very unusual to find all twelve still together !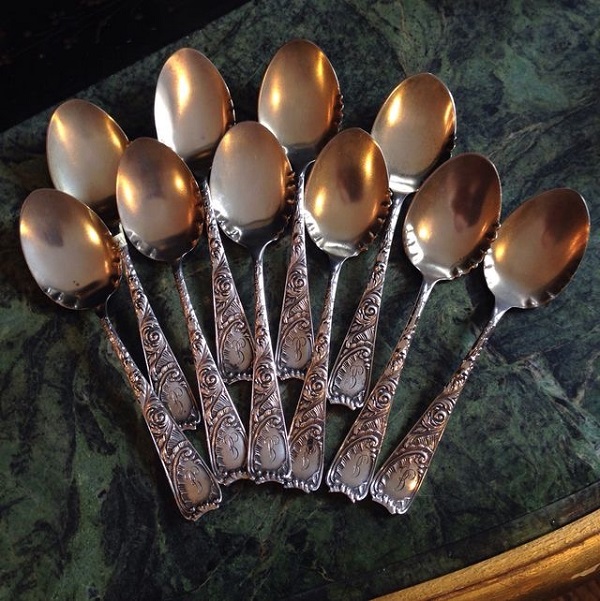 Antique set of ten sterling ice cream/sorbet spoons with gold washed bowls in "Luxembourg" (1888) by Wood & Hughes measuring 5-3/4" with cursive "J" momgram inside of the cartouche at the top of the handle
$460.00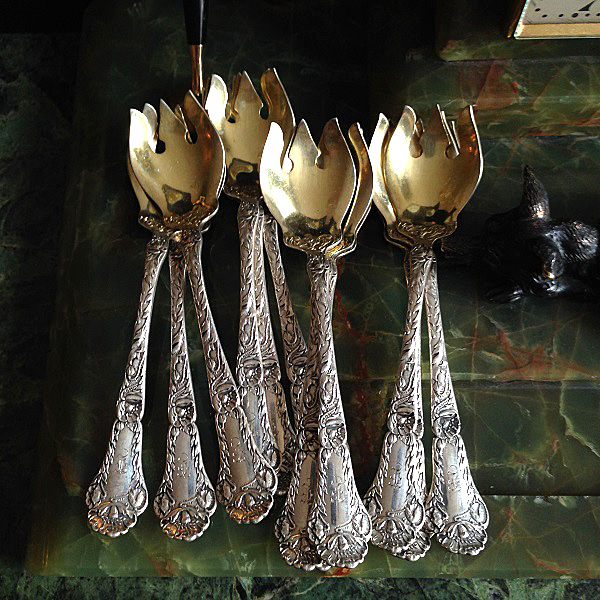 Set of 12 Art Nouveau sterling ice cream forks "Poppy" by Gorham with gold washed bowl and "E" momgram introduced in 1902 each "spork" measuring 5-1/8" long --this is the ultimate dessert fork!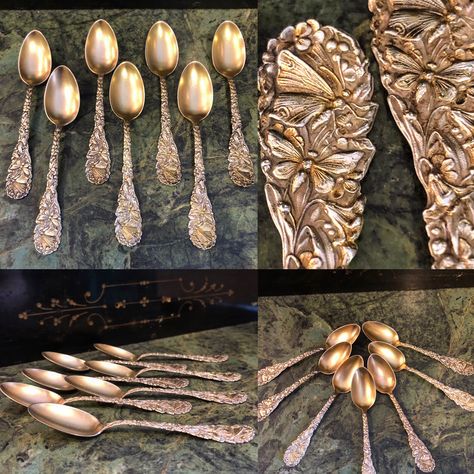 Set of 7 sterling demitasse spoons by R Wallace & Sons, circa 1890s, measuring 4-3/8" long with mono gothic "T"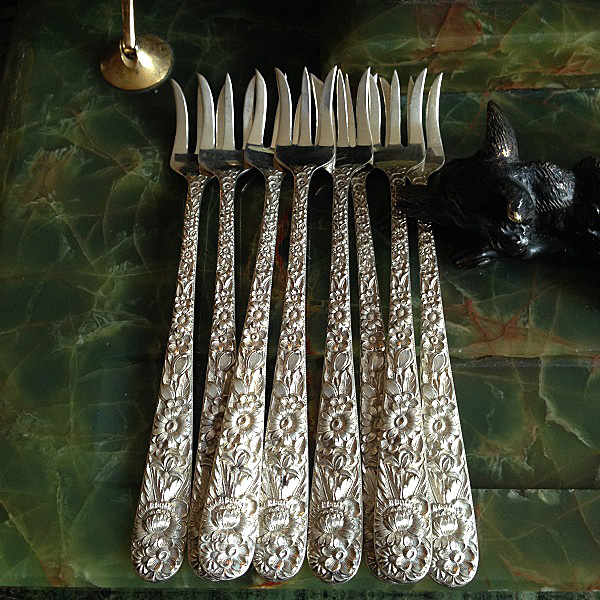 Set of sterling 8 seafood/cocktail forks "Repousse" by Kirk measuring 5-1/2" long each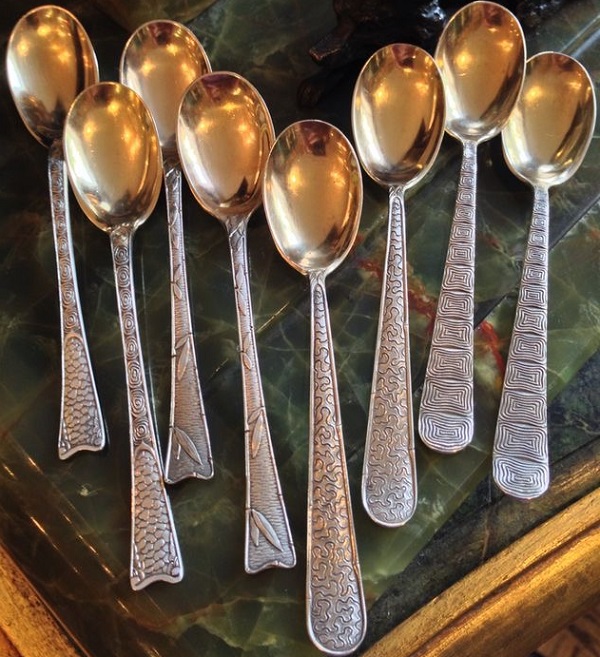 Set of 8 antique sterling demitasse spoons with four different patterns with gold washed bowls by Gorham circa 1890 with cursive "JP" mono the back of the handle measuring 4-1/2" long $395.00
Set of twelve individual flat butters (old mark) in "Francis I" by Reed & Barton introduced in 1907, each all silver knife measures 5-7/8" long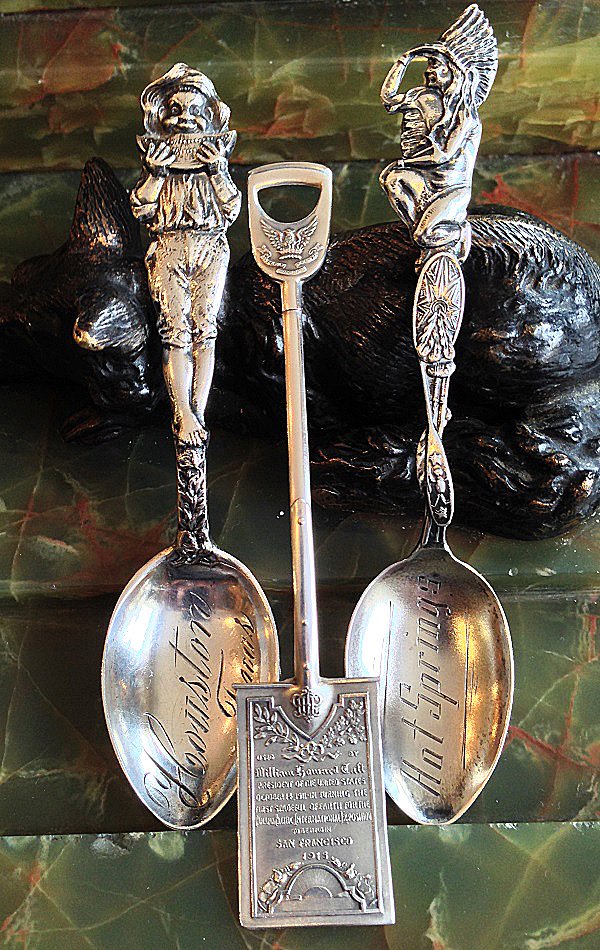 Sterling souvenir demitasse spoons from left to right:

"Houston Texas" boy with watermelon demitasse spoon 4" by Watson $60.00

1915 Panama Pacific International Expo, San Francisco, 4" shovel spoon $75.00

"Hot Springs" Indian Chief kneeling 4" by Payne & Baker (full figure) $38.00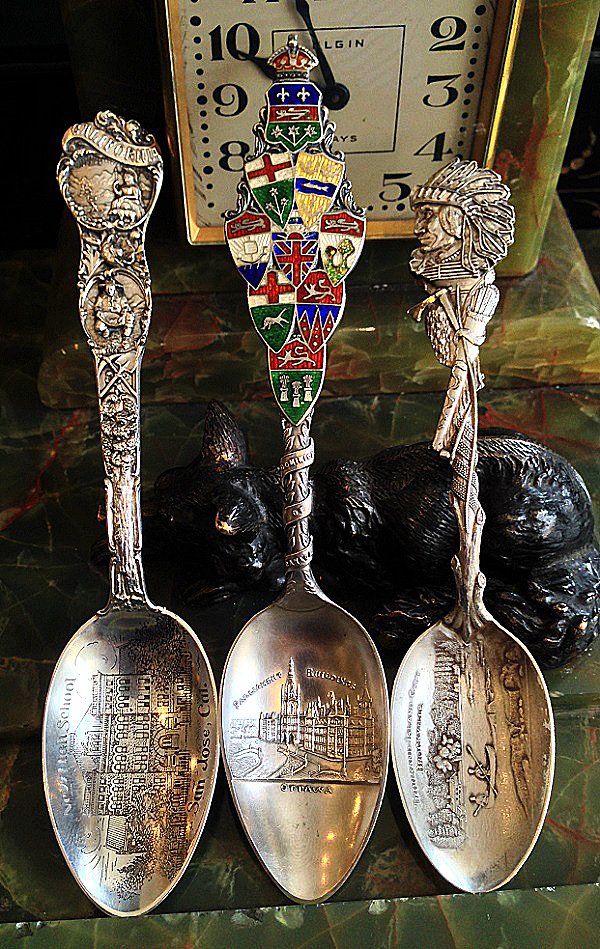 Sterling souvenir teaspoons from left to right:

California "New High School/San Jose" California by Watson 5-3/4" tall

$48.00

"Parliment Buildings/Ottawa" with the provinces in enamel 6" tall

$48.00

Indian Chief "Thousand Island City Brockville" Canada 5-1/2" tall

$38.00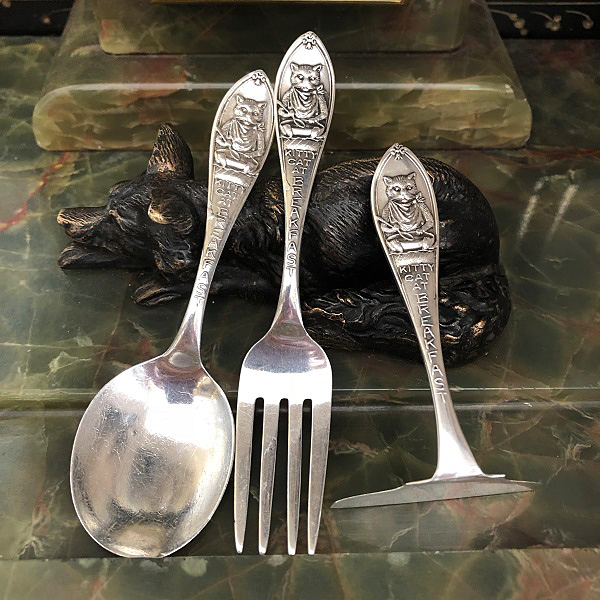 Sterling silver three piece baby set including the pusher "Kitty Cat at Breakfast" by Weidlich with the fork measuring 4-1/4"
$175.00