We adore tea time at The Antique Guild!
Figural Continental sterling silver tea strainer with angels and fruit, circa 1890s, 5-1/2" long $300.00
Italian 800 silver standard tea strainer with putti and flowers surrounding the bolw 5-3/4" long $175.00
Mid 19th Century German pleasantly squat teapot hallmarked with the 13 lothige (812.5% silver standard) with Grecian key design framed cartouche measuring 8" tall to the finial and 8-3/4" across from the spout to the end of the hand

$585.00

Sterling German tea strainer circa 1900 with swags, ribbons & flowers "ERN" mono 6"
$195.00
Sterling strainer,
circa 1900, of
18th Century
couples enjoying bucolic scenes
5-1/2"
$225.00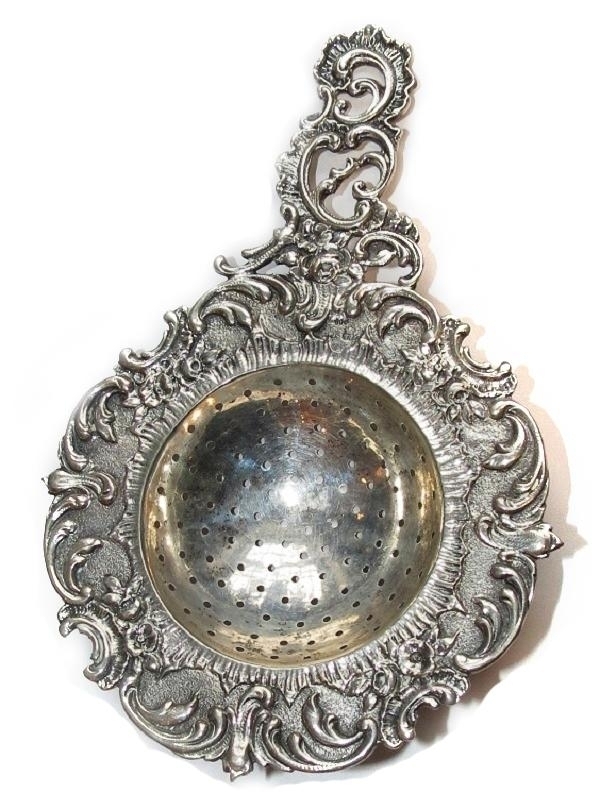 800 silver German tea strainer with open work on the handle circa 1900 6" long
$180.00
Silver Tea Caddy Canisters
Sterling silver tea caddy by J.E. Caldwell circa 1910 with "KLL" monogram 4-1/2" tall
$385.00
English sterlling tea caddy, Chester, circa 1901, With twisted finnial and claw feet 5-1/4" tall

$450.00

Sterling tea caddy by Kirk with monogram "JWL" engraved on front 4" tall
$195.00
19th Cenury Sterling Tea Caddy Spoons/Scoops
Sterling tea caddy spoon by Samuel Pemberton, Birmingham, circa 1807, "JT" mono 3-1/4"
$250.00
Sterling silver tea caddy spoon by Ludwig, Redlich & Co. circa 1890s leaf bowl 3" long

$175.00
Sterling English tea caddy spoon, London, plain without a monogram, circa 1815, 3-1/2" long